Size.........................6,56×6,56 Ft. Tent.......................Double-Layer.
Height....................5.09 Ft. Сloth.....................Oxford 240D.
Weight...................15,5 Lb. Inputs...................1 Door + 2 Windows.
Package Type........Bag. Frame...................Aviation Aluminum+Steel.
Double tent with an index of "UP" are set for a few minutes. This tent is the smallest and lightest of all leneyki UP tents. It comes with cutting under the chimney, which is fastened to the window.
Design umbrella type allows you to quickly set up a tent on any terrain. This small but roomy tent will suit lovers of hunting, fishing and outdoor activities. It can easily fit two people for the night.
This all-season tent. In it you can hide from the hot rays of the summer and extreme cold in the winter. The oven maintains a comfortable temperature in a tent, even in hard frosts. The tent will allow you to comfortably spend time in nature. Thanks to waterproof materials Oxford 240D you will stay dry inside the tent, even in heavy rain.
The doors and the window has mosquito nets that can detach and remove after the summer season. Removable floor waterproof zipper fishing fans will appreciate. Drilling a hole in the ice, you can put up a tent right at it and enjoy fishing in the warmth and comfort. Tents "UP" proven themselves in the most severe climatic zones of Russia!
Additionally, you can purchase a long burning oven.
The tent is equipped with:
• entrance with two sliders Locks and mosquito net
• opening two transparent windows with moskitkoy
• bunching under the chimney is built into the window at the lightning
• Comfortable ergonomic pockets for gear and personal belongings
• waterproof zippered bottom with partitions for wells
Equipment:
• Double-layer tent with frame
• The bottom of the zipper
• snatch stropy- 50 Ft.
• Kolyshki- 10 pcs.
• Carrying Case
Attention! The stove must be purchased separately.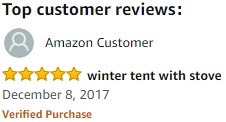 "This tent is worth every penny! Extremely well made and so easy to set up the stove is amazing I can't believe how warm it gets. Plenty of room and honestly my only regret is not getting this sooner! If I could give more stars I would."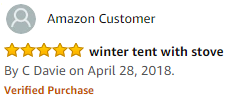 "The seller gave accurate information with prompt updates on shipping status. Very well built thick stainless steel stove and high quality tent fabric!! I am very happy with my purchase and recommend this product."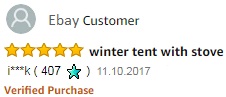 "Awesome product! Now i need to hit the gym to open it! Cheers!."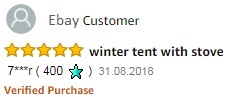 "Tent took about 2 weeks for delivery, the whole package is very high quality."

"Very good high quality, easy to use. Thank you "Russian Bear" company was very good and fast delivery. Thank you Amazon. This tent exactly for Canada , we like the tent and price is good . We can compare some tent that we have been looking or quality not good , or price . this is the best tent .
All information in Youtbe also .My advice is to make video advertising in English on Amazon or on YouTube.
thank you again to Amazon and "Russian Bear"!"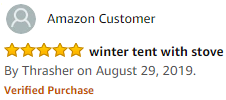 "Super awesome tent & wood burner kit is top quality, I definitely recommend this product!"